All-new Sixth Generation Hyundai Elantra Launched at Price of Rs 12.99 Lakh
Finally Hyundai has launched the sixth generation Elantra in India at starting Dhehi Ex-showroom price of Rs.12.99 lakh. The new Elantra gets the fully refreshed interior and exteriors including seven-inch Apple car play touchscreen infotainment system with navigation, hexagonal front grille, new sharp headlamps, LED lights, Alloy wheels, sun roof and etc,.
In India this model launched with 1.6 liter diesel engine and 2.0 liter petrol engine. The petrol engine delivers the maximum power of 152 Bhp and torque of 196 Nm. And diesel engine delivers the maximum power of 128 Bhp and torque of 265 Nm. Both engines are available with both manual and automatic transmission options.
In terms of dimensions, the new Hyundai Elantra will measure longer and wider and the same wheel base. This new model have 4570mm in ength, 1800 mm in width and 1465mm in height. The new Hyundai Elantra will compete against Volkswagen Jetta, Skoda Octavia and Chevrolet Cruz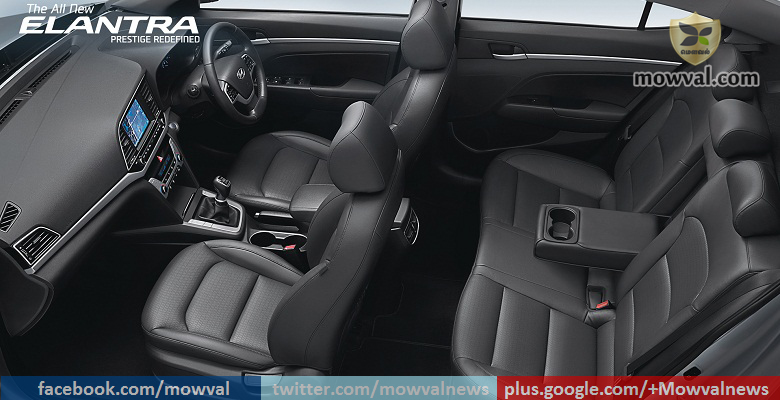 Variant wise Delli-Showroom price details:
Petrol
Elantra 2.0 MPi S - 12.99 lakh
Elantra 2.0 MPi SX - 14.79 lakh
Elantra 2.0 MPi SX (AT) - 15.89 lakh
Elantra 2.0 MPi SX (O) - 16.59 lakh
Elantra 2.0 MPi SX (O) AT - 17.99 lakh

Diesel
Elantra 1.6 CRDi S - 14.79 lakh
Elantra 1.6 CRDi SX - 16.39 lakh
Elantra 1.6 CRDi SX (O) - 17.69 lakh
Elantra 1.6 CRDi SX (O) AT - 19.19 lakh