---
The German carmaker, Audi has launched the Q8 SUV in US with a price tag starting from 67,000 USD. . Audi was showcased the Q8 Concept SUV in Detroit motor show last year. This model is designed on the original, legendary Audi Ur-Quattro platform. This will be the new flagship of Audi's Q range.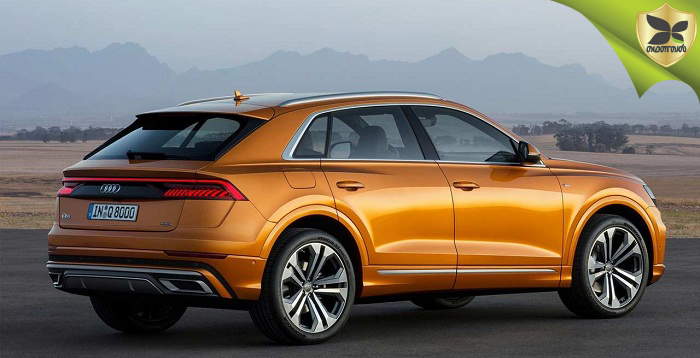 This is a cross between an SUV and a coupe. This model is designed based on Audi's new MLB EVO platform. , The Q8 measures a sizeable 4.99 metres in length, 2.0 metres in width and 1.71 metres in height. And it has 2.987-metre wheelbase. It is a luxo-lounge for four, with individual bucket seats for each occupant.
This model have lot of accessories in interior and exterior. The Q8 has offered only with a 3.0-litre V6 petrol engine. It delivers the maximum power of 335PS and peak torque of 500Nm. And, it coupled to an 8-speed automatic transmission and Audi's Quadro all wheel drive system. This model sprints 0 to 100 kmph time of just 6 seconds. Audi plans to offer the Q8 with some more engine options. This model also have mild-hybrid technology (MHEV). Most importantly, this model have adaptive air suspension with controlled damping. Using this adaptive suspension system the Q8's ride height can be adjusted by as much as 90mm, taking the maximum ground clearance up to 254mm. The Audi Q8 expect to hit the Indian roads around 2019.