---
Rolls-Royce Cullinan Luxury SUV Launched In India At Rs 6.95 Crore
Finally Rolls-Royce has launched its first Luxury SUV - Cullinan in India at Rs 6.95 Crore (ex-showroom, India). The Cullinan shares its aluminium space frame architecture, called 'The Architecture of Luxury', with the Phantom. Rolls-Royce claims that the Cullinan is the most advanced luxury SUV in the world. This name is derived from the largest gem-quality rough diamond discovered at the Premier No. 2 mine in Cullinan, South Africa, on 26 January 1905.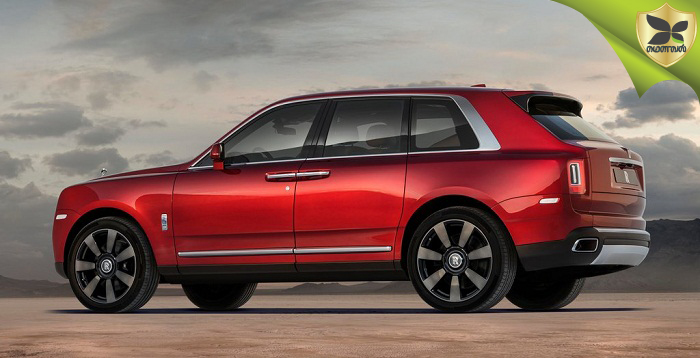 The Cullinan SUV was designed on the same Rolls-Royce old school design philosophy. This model have Rolls-Royce's signature grill, rectangular head lamps and etc,. And the style of the tail lamps is also similar to other RR cars. The interior is typical Rolls-Royce design as it features wooden inserts on the dashboard, central console and door trims and it also have Rolls-Royce watch. This model also have all-digital instrument cluster and a touchscreen infotainment system with navigation, which is a first for Rolls-Royce. The Cullinan measured 5341mm of length, 2164mm of width and 1835mm of height. This model also have lot of safety features such as night vision, vision assist including daytime and night-time wildlife & pedestrian warning, active cruise control, collision warning, cross-traffic warning, lane change warning and etc,.
You all already know about the luxury of Rolls-Royce. But, this new SUV one step ahead of other existing Rolls-Royce cars. So, think how this model experience?. Mechanically, this model powered with a 6.75-litre turbo-charged V12 petrol engine. It delivers 571 Bhp of peak power and peak torque of 850 Nm. It gets a four-wheel drive system, this is also first time in Rolls-Royce. It also gets electronically controlled shock absorber adjustment system, it automatically detects losing traction, to ensure contact with the ground for all wheels.