---
2018 Mercedes-Benz C-Class Cabriolet Launched At Price Of Rs 65.25 Lakh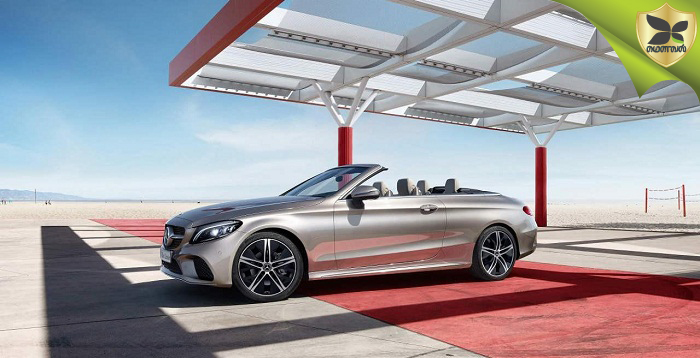 The Mercedes-Benz has launched the 2018 C-Class cabriolet in India at price of Rs 65.25 Lakh (ex-showroom, pan-India). The new C-Class cabriolet gets some cosmetic updates and BSVI-compliant petrol engine that can also run on BSIV fuel. It's available in one top of the line C300 variant. This is the cabriolet version of C-Class just over a month ago.
The new 2018 Mercedes-Benz C-Class cabriolet gets a revised front bumper, a slightly larger front grille and the new headlamp layout. The interior layout remains unchanged but there's a new 10.25-inch infotainment system. This model have different ambient lighting package, leather upholstery, wood trim options and and multiple colour options for the fabric roof.
Mechanically, this model available with 2.0-litre four-cylinder BSVI-compliant petrol engine option which develops 258bhp of power and 370Nm of torque. And this engine offered with a 9G-Tronic transmission sending power to the rear wheels.And, this model can able to reach the 100kmph of speed from standstill just 6.2 seconds. .
The new C-Class Cabriolet was launched by Mr. Michael Jopp, Vice President, Sales & Marketing Mercedes-Benz India.
Mr. Michael Jopp, Vice President, Sales & Marketing Mercedes-Benz India said, "Following the successful launch of the new C-Class, we are glad to introduce the stylish and suave new C-Class Cabriolet, which further extends the C-Class range with open top motoring. The new C-Class Cabriolet truly redefines open top motoring for those ardent enthusiasts who seek driving performance all year round. We are certain that the new C-Class Cabriolet will offer enhanced luxury and comfort to our customers and will continue to delight them. This fascinating cabriolet is aimed at the young target audience who enjoy driving an open-top luxury car."
Mr. Jopp added, "Bringing in the latest products from our fascinating global portfolio is key to our success and has been highly applauded by our discerning customers. Be it, drop top cabriolets, stylish coupes and jaw dropping AMGs, we believe in offering our patrons and brand enthusiasts the best of driving performance and exquisite products. The introduction of the C-Class Cabriolet reiterates our 'top of the pyramid' strategy for the Indian market. We aim to continue our product offensive in India."